EIO News
The following are past news articles from EIO:
MR. ROBERT PURGERT & DR. NATALIE SOBCZAK PRESENT AT ADVANCED CERAMICS AND COMPOSITES CONFERENCE
Mr. Robert M. Purgert, President of Energy Industries of Ohio and Dr. Natalie Sobczak jointly presented the results of efforts studying the effects from interactions of various ceramic materials used in metal casting processes for new high nickel alloys. These alloys are being employed on a wider scale in the power industry in addition to their ongoing use for defense applications. This research is part of a supplier development effort initiated by the State of Ohio in support of the U.S. DOE/Ohio Coal Development Office Advanced UltraSuperCritical Materials Program and was performed by the Energy Industries of Ohio in cooperation with the Foundry Research Institute and the Motor Transport Institute in Poland. Financial support from the Ministry of Science and Higher Education of Poland was also provided for the effort. The international conference on Advanced Ceramics and Composites was held in late January 2016 at Daytona Beach, Florida.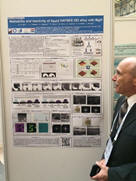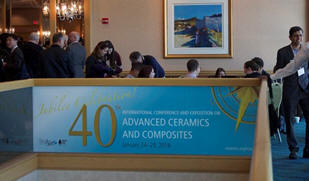 Mr. Robert Purgert views poster while attending the Conference
---
Energy Industries of Ohio receives 2nd Place Award at International European Materials Conference (EUROMAT).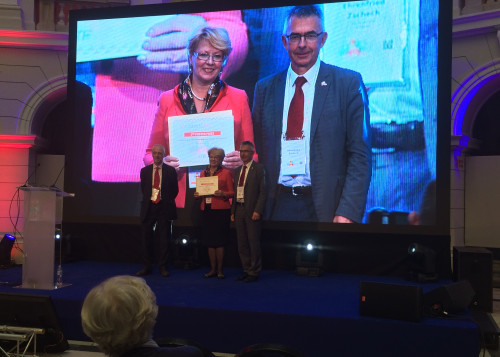 Dr. Natalie Sobczak accepted the award on behalf of Energy Industries of Ohio at the EUROMAT conference held in September 2015 at Warsaw, Poland. The award was in recognition of the poster presentation of work conducted by Energy Industries of Ohio in conjunction with Poland's Foundry Research Institute, Motor Transport Institute, University of Wisconsin and the Polish Academy of Sciences. This work supports EIO efforts associated with Advanced UltraSuperCritical power systems and demonstrates the reactivity of the new Haynes 282 alloy with various substrates.
A sessile drop method was applied for investigation of high temperature behavior of commercial Ni-based superalloy HAYNES 282 alloy (H282) and NiCr10 alloy in contact with MgO substrate. An alloy sample was contact heated on polycrystalline MgO substrate up to a temperature of 1500 °C under vacuum and then isothermally heated for 15 min. Melting, wetting, spreading and solidification of examined alloys have been recorded using high-speed high-resolution CCD camera. The images of the drop/substrate couples were used for estimation of the contact angle values versus time. Wettability studies evidenced that liquid H282 alloy wets MgO substrate showing a periodic change in the contact angle versus time. Such unusual wetting behaviour was explained by the presence of Cr in the alloy. Comparative tests performed with NiCr10 alloy confirmed that during heating to and at 1500°C, NiCr10 drop spreads and wets the MgO substrate but after a few seconds it again de-wets it. This wetting/de-wetting phenomenon, repeated a few times and accompanied with drop movement, was explained using thermodynamic analysis in NiCr/MgO systems together with detailed structural characterization of the cross-sectioned sessile drop couples showing the formation of MgCr2O4 phase at the interface.
---

EIO received a $500,000 grant from the U.S. Department of Energy's National Energy Technology Laboratory to demonstrate the benefits Of tailoring Hot Isostatic Pressure/Powdered Metal (HIP/PM) with Additive Manufacturing (AM) techniques to fabricate advanced energy system components. The project will demonstrate the opportunities and benefits of tailoring the two material processing technologies, Hot Isostatic Pressure of Powdered Metal, (HIP/PM) and Additive Manufacturing (AM), to provide a safe and cost effective approach to large scale manufacture of quality structural advanced alloy components capable of meeting severe operating environments (high temperature, pressure, corrosivity) and performance specifications of advanced energy (AE) systems. The project will employ A-282, a high nickel alloy of interest to the Fossil Energy community, particularly for Advanced-UltraSuperCritical operating environments, as well as the crosscutting interests of the aerospace, defense and medical markets. Using combinations of AM, HIP and HIP/PM, the project will pursue three production methods for fabricating components with the objective of demonstrating how use of conventional material processing technologies can be tailored to better accomplish the fabrication of components from advanced materials. EIO's Program Manager, Ms. Nancy Horten can be reached at horten@energyinohio.org for more details.

---
You're invited to a workshop on Power Quality, Advanced Manufacturing & Improving Efficiency

FirstEnergy has scheduled an EPRI workshop to be held at the Lorain County Community College (LCCC) on Thursday, October 29. This event should be a good industrial customers in Northern Ohio or Western PA. The objective of this session is to help industrial and manufacturing customers explore low cost solutions, to be more resilient to power system anomalies, improve facility efficiency, and understand how technical modernization and advanced manufacturing developments can increase productivity. Sponsored by FE/LCCC, there is no charge to attend.
---
EIO RECEIVES GRANT TO DEMONSTRATE HIGH TEMPERATURE ELECTRIC GENERATION ALLOYS

The Ohio Coal Development Office (OCDO) has awarded a $330,000 grant to the Energy Industries of Ohio (EIO). The grant is to demonstrate components for power plants made from new high temperature alloys. This project is needed to address the efficiency of power plants using high sulfur Ohio coal and to expand the State's "Baseload Supply Chain" catalog. The materials and manufacturing processes to be undertaken in the grant are potential market opportunities for mainstay Ohio industries. In particular, the program will position Ohio's metal-casting, forging and extrusion industries to capitalize on the need to upgrade and replace older power plants. The grant will cover learning new processing techniques to address the special characteristics of the new materials such as their reaction to air when melting. The grant also expands earlier EIO activities to identify, screen and place firms onto the State of Ohio's "Advanced Baseload Energy Suppliers Catalog".
---
2013 BASELOAD ENERGY MANUFACTURING SOURCE DIRECTORY ISSUED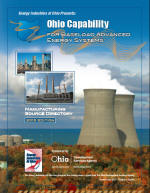 The Energy Industries of Ohio (EIO) released Ohio's Manufacturing Directory for Advanced Energy Baseload Systems at Youngstown State University's annual Energy Forum on June 3, 2013. It was prepared under a grant from the Ohio Development Services Agency.

Ohio is one of the few states to recognize that next generation power systems will need suppliers able to produce critical power generation parts. These "pinch point" items are focused in mainstay Ohio industries, particularly forgings, castings, extrusions and fabrications. The Ohio program was designed as a focused and targeted strategy aimed at the true critical needs of the power-gen industry built around traditional Ohio capabilities.

The program was accomplished with the support and assistance of Ohio's FirstEnergy Corp. who aided EIO in facilitating high level meetings with the direct builders of baseload fossil and nuclear power plants. These meetings were critical for defining real opportunities for Ohio firms by listing their critical need items of hard-to-source items. Armed with this listing, a "needs envelope" was defined so that EIO could target the firms most likely meeting the industry's needs. Meetings were then held with Ohio's Industry Associations, labor groups and both local and regional economic development organizations to identify possible candidate supplier firms. EIO's Program team then made on-site visits to screen these possible suppliers for interest and documented their capabilities into the Manufacturing Directory.
IN MEMORIUM: EIO BOARD MEMBER MICHAEL DRAGOMIER



Michael (Mike) Dragomier of Canton, Age 64, passed away Saturday, August 9, following a stroke suffered on Monday, August 4. He is survived by his cherished wife of 41 years, Lynne (Warner) Dragomier; sons Michael (Terra) of North Canton and Matthew of Hermosa Beach, California; grandson Lucas Dragomier; brothers John David (Karen) of North Redington Beach, Florida, and Gary (Barb) of North Canton; sisters-in-law Lorraine Cook of Sharon Center and Marsha (Rod) of Hudson; brother-in-law Marc (Gay Smith) of Canton; father-in-law Joseph Richard Warner of Louisville, who embraced Mike as a son following the early death of Mike's father; numerous nieces and nephews and other extended family members.

Mike was a member of EIO's Board of Directors from shortly after the company was incorporated until his passing. He also provided advice and support with respect to the operations of EIO's Casting Development Center and actively supported the Student Internship Program of the Center that gave students at Kent State University hands-on metal casting experience.

Mike infused every facet of his life with vigor, humility, honor, humor and heart. Mike's inimitable demeanor somehow struck a perfect balance between frank and tender, cerebral and plain spoken, dignified and down to earth. He earned his bachelor's degree in Education and his master's degree from the College of Technology, both at Kent State University. He was a devoted, beloved faculty member of the College of Applied Engineering, Sustainability, and Technology (CAEST) at Kent State University and had recently earned a promotion to associate professor. He was a member of the North American Die Casting Association (NADCA), Epsilon Pi Tau - International Honorary Society, and the American Foundry Society (AFS), for which he was serving on the board of directors as well as past president of its Canton-Akron-Cleveland chapter. He held the distinction of being a "Key Professor" in the Foundry Educational Foundation (FEF), the educational arm of AFS. He was passionate about his role as a faculty advisor to the student chapter of AFS (KSU-AFS). Among his many professional honors were the FEF/AFS Distinguished Professor Award, and the Society of Manufacturing Engineers George Snyder Manufacturing Technology Educator of the Year Award. Mike once wrote: "My philosophy toward teaching and education is best summed up by the proverb that says, 'Tell me and I will forget. Show me and I will remember. Involve me and I will understand. Step back and I will act.'" Countless successful students can attest to the impact of Mike's visionary teaching style. The family requests memorial contributions to the Michael L. and Lynne S. Dragomier Scholarship Fund or to the College of Applied Engineering, Sustainability and Technology; both can be made through the Kent State University Foundation, PO Box 5190, Kent, Ohio 44242-0001, or call 330-672-2222. Gifts can also be made to the Foundry Educational Foundation (www.fefinc.org).
EIO SELECTED TO PARTICIPATE IN NEW CONSORTIUM FOR INNOVATIVE MANUFACTURING

EIO is pleased to announce our participation in a broad scale partnership entitled the National Additive Manufacturing Innovation Institute (NAMII) that was selected for funding and announced by the White House on August 16, 2012.The consortium's proposal, led by the National Center for Defense Manufacturing and Machining, is to establish a new public-private institute for manufacturing innovation. It was selected from among numerous proposals. The Team will receive an initial $30 million award and will be located in Youngstown, OH.NAMII will serve as the pilot, proof-of concept for a larger federal initiative entitled the National Network for Manufacturing Innovation (NNMI).It is considered particularly valuable in the defense and energy sectors for its ability to minimize tooling and reduce waste. This initiative builds upon many investments in the region, including Energy Industries of Ohio's supplier development activities using new advanced alloys and manufacturing processes such as Powdered Metal (PM).EIO has committed more than $300,000 in cost share to the NAMII and brings the critical perspective of industry and the energy marketplace to the consortium that includes universities and research laboratories. EIO worked alongside others from the TechBelt Initiative, a network of technology and innovation stakeholders, who perceive the value of collaboration to accelerate economic growth within the Northeast Ohio, Western Pennsylvania and Northern West Virginia.
OHIO OFFICE OF ENERGY RECEIVES THIRD YEAR FUNDING FOR THE OHIO CENTER FOR INDUSTRIAL ENERGY EFFICIENCY

The Ohio Office of Energy, part of the Ohio Development Services Agency, recently received notification that the US Department of Energy has provided $250,000 in additional funding for the third year of the grant for the Ohio Center for Industrial Energy Efficiency (OCIEE). OCIEE, managed by Energy Industries of Ohio, provides energy efficiency assessments; Best Practices training in compressed air, process heating, steam systems, and pumping systems; 4-Phase Program facilitation; and energy management systems assistance to manufacturers based in Ohio. More information on this program can be found on the OCIEE website (www.ohiociee.org) for additional information on this program.
Additional News